The 2021 Subaru Love Promise Customer and Community Commitment Award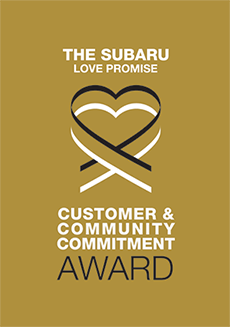 We've been nationally recognized for our dedication to our customers, our community, and the Subaru Love Promise.
We're honored to receive the 2021 Subaru Love Promise Customer and Community Commitment Award. This award nationally recognizes elite Subaru retailers who provide an exceptional customer experience at every interaction with Subaru. These retailers have also demonstrated an outstanding commitment to supporting passions and causes in their local communities in important areas such as the environment, community, health, education, and pets.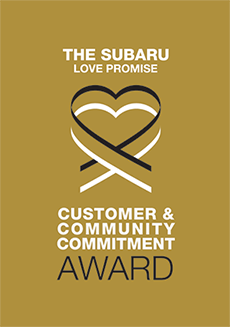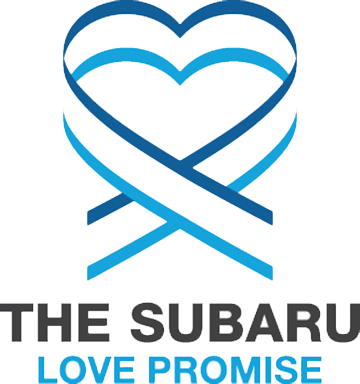 What is the Subaru Love Promise?
Subaru and our retailers believe in making the world a better place and the Subaru Love Promise is our vision of respecting all people. This is our commitment to show love and respect to our customers and to work to make a positive impact in the world.
How is Cole Subaru dedicated locally to the Love Promise?
Our Love Promise can be seen in various partnerships with local charities and non-profits. We're grateful for the opportunity, not only to be a part of our community, but to serve it as well.
TAZEWELL COUNTY ANIMAL SHELTER
Bluefield Arts Revitalization Corporation
Love Promise Stories from Cole Subaru
Subaru and Cole Subaru believe in making a positive impact on the communities in which we live and work. We uphold that belief through our Love Promise Community Commitment. Every month, we select inspiring stories from customers and partners from around our area who strive to support our collective commitment and feature them here
Cole Subaru Donates Flowers to Athens Elementary - Jennifer T
Cole Subaru donated flowers and mulch to the Athens Elementary School in Athens, WV. There were 27 bags of red mulch to replace what was still left from last year as well as countless plants and hanging baskets donated for them to place around the school.
---
Cole Subaru Feeds Princeton Rescue Squad - Jennifer T
Cole Subaru catered lunch for the Princeton Rescue Squad as a HUGE Thank You for their work in providing vaccinations to the community.
---
Cole Subaru Feeds Mercer County Health Dept - Jennifer T
Cole Subaru provided lunch to the team at the Mercer County Health Department as a HUGE Thank You for all the community support during the pandemic. The Health Department staff have also worked hard in assisting the community with vaccinations and staying safe and healthy through this time. Cole Subaru Thanks Mercer County Health Department for their dedication to the community!
---
Cole Subaru Loves to Help Amy's House of Hope - Jennifer T
Cole Subaru has stepped up to help the local Soup Kitchen by donating them warm blankets and serving a meal to the community. Cole Subaru donated 50 blankets and 150 hot meals from the Historic Bank Lobby's Vault restaurant to Amy's House of Hope.
---
Subaru Loves Pets - Jennifer T
Cole Subaru partnered with the McDowell County No-Kill Shelter for Subaru Loves Pets Month in October 2020. Cole Subaru offered on site pet adoptions, pet food and pet bedding donations. McDowell County No-Kill Shelter was able to find Forever Homes for 21 Pets!
---
Best car buying experience ever! - Elizabeth M
COLE Subaru of Bluefield, WV held my hand through the entire process. They explained all the features of the vehicle I was interested in. They were always helpful and polite. After I purchased the Crosstrek they have called often asking how I am, do I have any question or can they help me in any way. I love my new car and I will definitely recommend Cole Subaru.
---
Subaru Loves Pets - Harrison H
This month, Cole Subaru partnered with McDowell County Animal Shelter to donate 300 lbs of pet food, toys, and supplies! Happy to hear about the support to this wonderful, no-kill animal shelter.
---
Cole Subaru provides comfort & warmth for patients - Susan Y
The Leukemia & Lymphoma Society is extremely grateful to be a partner with Subaru in their Subaru Love Promise Campaign. For the third year in a row, Cole Subaru of Bluefield, WV, partnered with our local LLS chapter to deliver 80 blankets to cancer patients at the Wake Forest Baptist Health Comprehensive Cancer Center. Upon my arrival on July 9th to unload and park, John Young from Cole Subaru had arrived early and was stationed outside of Wake Forest Baptist Comprehensive Cancer Center. John was standing beside the Subaru already distributing blankets and care cards to patients as they were arriving and departing. He had just presented a blanket and care card to a gentleman from the same area as their dealership in Bluefield, WV. John knew the man and had a long conversation with him, showing such compassion as he heard the news that the gentleman had cancer. John knew him well and had sold two Subaru's to his family in the past, he was at Wake Forest Baptist receiving chemo treatment. John was so happy to have connected with him and to be able to share this gift of warmth and comfort with him. I have included a photo of the two of them, his name is John also. As everyone gathered, we took some time to take pictures in front of the cancer center and then Allison Brouillette, Sara Maslonka, Dr. Wentworth and the team at Wake Forest Baptist Comprehensive Cancer Center escorted us to their new Survivorship Clinic. We were honored to have a behind the scenes tour of this brand new facility serving cancer patients and their families and helping them through survival. John and I had the opportunity to meet patients and present a blanket directly to a gentleman visiting the clinic at that time, also pictured. We were able to leave the thoughtfully written customer care cards filled out by the local custumers of Cole Subaru in the lobby of the clinic. There were cards from other cancer patients and survivors, local families sending well wishes and some from young children which will all certainly brighten the day of a patient or their family upon reading them. We loaded the blankets up for future patient visits. John was able to distribute approximately 20 of the 80 blankets to individuals receiving treatment that day. He and I were thrilled to have this unique chance to interact with the medical team and patients who have been impacted by cancer and look forward to this continued partnership for years to come.
---
Survivorship Celebration - Susan Y
Survivorship Celebration The partnership between Subaru and The Leukemia & Lymphoma Society has provided unforgettable experiences and connections to so many people who have been impacted by cancer. On June 21st, Wake Forest Baptist Health Cancer Center hosted a Just For You day for all cancer patients, survivors and their families. The event offers a variety of services to patients and their families to celebrate them through their cancer battle and beyond. When the team at Cole Subaru of Bluefield West Virginia was asked to deliver blankets again for this extremely special event, they jumped at the opportunity! After connecting with Jason Cole, General Manager and Zack Frame, Sales Manager, we coordinated the logistics of the delivery with Allison Brouillette at Wake Forest Baptist so that they would have the best chance to impact as many patients as possible for the event. Myra Gaddy, volunteer ambassador for The Leukemia & Lymphoma Society, was also eager that the day of deliveries coincided with the Just For You event. Myra has lost family members to cancer and is an advocate for LLS sharing our mission with others to help spread awareness and to help find cures so that others do not have to go through that experience. Upon arrival, the team from Cole Subaru parked their Subaru at the front of the Cancer Center and prepared for the delivery of blankets. Patients and their families lined up to receive the gift of warmth and comfort and enjoyed the chance to talk with the team. This really is a unique opportunity to give back to the community through direct contact with those who are going through their cancer battle. We are grateful that the partnership with the Subaru Loves To Care Campaign gives cancer patients in the Triad and beyond the feeling that there are so many people by their side throughout this fight doing everything possible to make a difference!
---
You've Blanketed Me With Love - Cathy B
Giving back to others is so important to Cole Subaru and we were very happy to have met Cathy, a patient at Wake Forest Baptist Hospital, when The Leukemia & Lymphoma Society (LLS) joined Subaru to deliver gifts to cancer patients. Cathy shares her story: "Today I received a gift- a beautiful, blue cotton blanket from Cole Subaru and while the present itself was lovely, the message behind the gift is what will stay with me always. I am a multiple myeloma survivor. I used to work at Wake Forest but my illness prevented me from continuing my job. Almost two years ago, I needed to spend all my time and positive thoughts surviving cancer, which I thankfully did. At the time of diagnosis, my bone marrow was 90% cancer cells. I know there is no cure for multiple myeloma but there are treatments, and more research every day. Today, I am in remission, and today I received a gift from strangers. Accompanying the blanket was an inspiring message from a Subaru customer. The beauty of this gift comes from the knowledge that there are people I have never met, and may never meet, who are thinking about me, and others battling cancer. When I drape the blanket across my body, I am reminded of the warmth it provides both physically and emotionally, and that it represents my journey through cancer and back again. I now know there are many caring people out there who want me to survive… and thrive. Thank you Cole Subaru and LLS, for your gift means more to me than you can ever imagine."
---